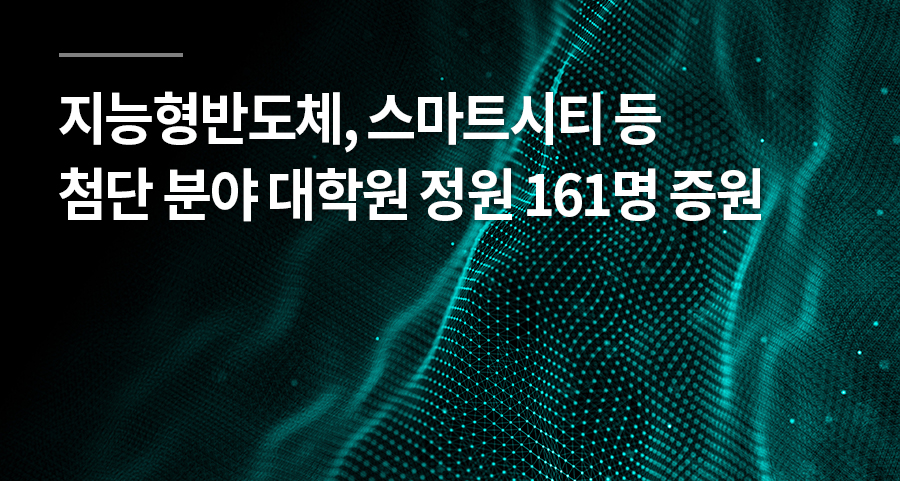 Applications for new students for 2023 from January 18th to 25th

The number of departments related to high-tech fields at University of Seoul (President Seo Soon-tak) will increase significantly. University of Seoul announced that it has received approval from the Ministry of Education to increase the number of 161 students (120 masters and 41 PhDs) in four departments: intelligent semiconductor department (new), smart city department, statistical data science department, and artificial intelligence department.
The master's course secured the largest increase with 52 intelligent semiconductor majors, followed by 32 smart city majors and 18 artificial intelligence majors and 18 statistical data science majors, a total of 120 people.
In the doctoral course, 13 intelligent semiconductor majors, 14 smart city majors, and 7 artificial intelligence majors and 7 statistical data science majors each secured a large foundation for fostering high-quality human resources in high-tech fields. The University of Seoul`s recent increase in graduate school quota in high-tech fields is the second-largest among 24 approved universities after Sungkyunkwan University.
The University of Seoul will apply for four departments (intelligent semiconductor, smart city, artificial intelligence, and statistical data science) from January 18 to 25, and then select new students for 2023.
The ministry's approval to increase the number of graduate students is a follow-up to easing regulations on high-tech personnel, including semiconductors, to cope with growing demand for high-end talent in the new technology sector, which will lead the nation's technological innovation.
President Seo Soon-tak said, "Increasing the number of smart city, artificial intelligence, and statistical data science departments is specialized in urban science, and we will do our best to foster high-quality human resources to contribute to core technologies in the future."